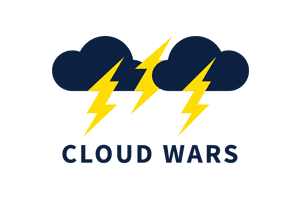 Amazon expects to invest at least $25 billion into AWS infrastructure over the next 12-months to fuel the stunning growth rates of its cloud business, CFO Brian Olsavsky said last week.
We need to bear in mind that that very large number—$25 billion—is just for infrastructure, and is not intended, by any means, to represent Amazon's total investment in its high-flying cloud subsidiary, which has been growing more rapidly than the Microsoft cloud business for each of the past 4 quarters.
Amazon's intention is clearly to grab as much market share as possible in the torrid Cloud Wars, for which every day seems to present more evidence supporting the claim that it is the greatest growth market the world has ever known.
For the quarter that ended on March 31st, Amazon's AWS unit was quite successful in that market-share grab as AWS revenue rose 37% to $18.44 billion, representing an increase in revenue of almost $5 billion over the year-earlier quarter. Also, per the Amazon graphic below, AWS's very strong Q1 performance brought its trailing 12-month revenue total to $67.1 billion.
(Source: Amazon 2022 Q1 earnings presentation)
In the meantime, AWS's primary competitors—Microsoft and Google Cloud—are continuing their own red-hot trajectories as Microsoft Cloud was up 32% to $23.4 billion (up about $5.7 billion from the year-earlier quarter) while Google Cloud posted hypergrowth of 44% to $5.82 billion, up about $1.8 billion.
So clearly, Amazon is being both prudent and ambitious in plowing huge investments into its cloud infrastructure for future growth.
As for that $25 billion figure, your humble correspondent was required to do a bit of ciphering to come up with it. But I believe I'm being conservative and fair with that derivation, as I hope you'll see as I make the case for that number.
First, let me share the verbatim remarks from Amazon CFO Brian Olsavsky from last week's earnings call, wherein Olsavky describes the company's overall capital investments of various types for the 12-months ended March 31.
During that time, Olsavsky said, Amazon's capital investments totaled $61 billion, with 40% going to infrastructure, "primarily supporting AWS."
So, 40% of $61 billion is $24.4 billion for infrastructure.
Since most of that is to support AWS, let's say the AWS portion of the infrastructure investment for the 12-months ended March 31 was $20 billion.
Olsavsky then laid out the details for the next wave of capital spending plans for the 2022 calendar year.
"For full-year 2022, we do expect infrastructure spend to grow year over year, in large part to support the rapid growth and innovation we're seeing within AWS. We expect infrastructure should represent about half of our total capital investments in 2022."
So, as aggressive as Amazon was on infrastructure spending in the 12-months ended March 31, Olsavsky is saying, it has begun to be even more bullish for what it will invest in infrastructure over the next 3 quarters.
With infrastructure rising from 40% of capital expenditures to 50%, it is very reasonable to expect that my estimated figure of $20 billion for the 12-months ended March 31 will rise to $25 billion for calendar 2022.
---
Register today for THE cloud event of the year