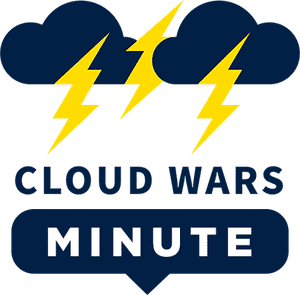 Welcome to the Cloud Wars Minute — your daily news and commentary show, hosted by Cloud Wars Founder, Bob Evans. Each episode provides insights and perspectives around the "reimagination machine" that is the Cloud.
Highlights
0:38 – While attending the SAP Sapphire show, Bob shares his thoughts about "The New SAP". They have not trimmed down expectations but are very ambitious and aggressive in their move to the cloud.
1:24 – Bob's reactions to this is that there is a whole new sense about business outcomes as opposed to talking about features. Further, SAP is putting a huge emphasis on speed for customers and speed in getting their new SAP Cloud technology up and running.
1:46 – SAP is pulling together the power of data which they have always had the potential to, but haven't always had the tools to do it. Also, there is a big focus on simplicity – changing the whole notion and reputation that SAP has had for so long.
2:16 – Bob chatted with a number of SAP executives such as CEO Christian Klein, Global Head of Customer Success, Scott Russell, Chief Marketing and Solutions Officer, Julia White, President of S/4HANA, Jan Gilg, President of SAP Cloud, Brian Duffy, and CTO Juergen Mueller. They are fully committed to the RISE program and recognize the impact it's had.
3:00 – Further, they have got the vision and have made a commitment across the company which Bob characterizes as "harmonized". In the past, the teams felt disconnected and had different priorities. Now, they are very much in sync around the customer-centric idea.
3:39 – This brings Bob back to the point that SAP deserves to be thought of as "The New SAP" as it pulls forward today and into the future.
---
Register today for THE cloud event of the year