Who They Are
Talk to enough startup founders and it can become a challenge to pick out truly unique technology features or company traits, even when the companies tout how groundbreaking and one-of-a-kind they are.
For this profile of impress.ai, which recently struck a high-profile partnership with the consulting firm Aon that will help ramp up its U.S. presence, a couple of things stand out.
First, the company's HR recruiting automation software is geared toward the candidate as least as much as it is to the recruiter. That is, it aims to keep candidates engaged in what we all know can be a messy, bewildering process. "The goal in everything we do is to make it easier for candidates and recruiters to hire accurately for the role that's been targeted," says impress.ai Co-founder and CEO Sudhanshu Ahuja.
Second, Ahuja refers to a candidate funnel in the same way that companies talk about their sales pipeline; he emphasizes keeping candidates "warm" and advancing them in the funnel. And why not? When there's a global war for talent taking place, and companies in all industries recognize the difficulty in hiring strong talent, you clearly need a buttoned-up recruiting process that doesn't let great people fall out of the funnel.
Impress started five years ago to streamline a difficult, highly manual process: HR recruiters needing to manage a high volume of open positions, screen resumes and candidates — all while keeping hiring managers updated.
"We thought, can we allow recruiters to get some of their time back because software is helping them do all that," Ahuja says. The company applies artificial intelligence (AI)-powered software to automate manual steps that don't add a lot of human insight and thereby let recruiters focus on higher-level tasks. "The goal is to make sure that the human interaction is used well, so you don't sacrifice qualified candidates."
Based in Singapore, the company has secured $4.4 million in venture capital, has 90 employees, and is part of the SAP.iO program.
What They Do
impress.ai was founded to address the process of screening job candidates, which was becoming more complex and more time-consuming for recruiters, who also struggled with the growing complexity of the roles they were looking to fill.
"Generally when you're handling 20-40 roles in parallel, it's very difficult to have a one-on-one interaction for every candidate who applies," Ahuja says. "Candidates get left waiting, a lot of times they drop off when recruiters need to try to keep candidates engaged."
The company's software uses AI to automate many of the early, time-consuming, and mundane aspects of screening to make recruitment processes more efficient and scalable.
It's helpful to consider that a high percentage of candidates, especially those already employed, will be submitting their resumes or applications after business hours — when recruiters normally aren't working. One of the values that impress.ai adds is to enable quick response after this submission occurs.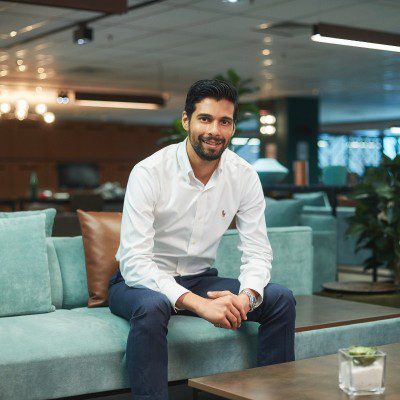 Upon this submission, impress.ai will invite the candidate to their first engagement, which impress.ai calls an 'autonomous interview.' The candidate receives an email and a text asking for the first interaction to be with a virtual interviewer — who most clients like to give a human name, like Eva. They talk to a chatbot that introduces the company culture, the role, value propositions, and more. The candidate can ask questions upfront about benefits and so on.
"It's like talking to someone on text," Ahuja says. "Almost kind of an autonomous recruiter that takes you through a bunch of steps."
That real-time engagement is important in today's challenging market for securing new hires; it's also more likely to engage "native digitals" than an old-school, asynchronous email- or phone-based process driven by people.
If the candidate clears the application and screening process, they're asked to move to one or more interviews with a hiring manager. The data (scores and reports) that impress.ai has captured transfers into the candidate's profile in the customer's application tracking system. The software has a wide range of integrations with major HR systems.
AI manages several elements of the workflow described above:
AI builds a candidate score that quantifies their relevance and suitability for the role.
Answers questions that candidates typically ask about benefits or policies. "98% of those queries are automatically answered by the system," Ahuja says.
If the candidate is determined by the AI to not be a good fit, impress.ai will also seek to match that person to other open roles where possible.
"One of the key goals of the product is to convert candidates in any part of the funnel," Ahuja says. "If they're in the early part, we want to make sure we move them to the next part of the funnel. Everything we do is to ensure we're continually converting candidates across the pipeline."
In Singapore, the company has engaged with customers through a direct sales model. As it looks to expand to the U.S., partnerships such as the one with Aon will be instrumental in expanding its reach. "We decided partnerships are the way to go because of how important local knowledge and trust on the customer side is," he says.
Who They've Impacted
CapitaLand is a Singapore-based real estate firm with about 7,000 employees. Its previous model — pursuing candidates from across Asia with a manual screening process — typically took up to three months to accurately screen and assess candidates. It needed a more efficient process to engage the best candidates.
Since deploying impress.ai, CapitaLand cut the application-to-shortlist process to an average time of 16 hours and 24 minutes per candidate. From the first interaction to candidate shortlisting, impress.ai automated the entire recruitment process. Upon completing all assessments and evaluations, the AI system scored and ranked candidates based on skills, competency, and fit for the role, enabling CapitaLand's recruiters to select the strongest candidates.
The first iteration of Clara handled 3,611 candidate inquiries, 44% of which occurred after business hours, demonstrating its value in saving recruiters' time and increasing candidate engagement at times that work best for them. The experience received an average satisfaction rating of 4.67 out of 5 from candidates.
The system saved CapitaLand Group 21.4 days of productivity and 7,505 Singapore dollars (SGD) (roughly equivalent to $5,400 US) worth of recruiter time on every intake. It achieved cost savings of SGD 25, 064 ($18,048 US) on screening alone.
"impress.ai enables us to screen and recruit top talents with speed and scale, keeping candidates engaged throughout a multi-stage process and, ultimately, increasing hiring accuracy," says Angeline Oh, Head, Group Human Resources, CapitaLand.
The Future and Closing Thoughts
impress.ai has some impressive customer wins in its native country as well as a blue-chip partner with deep customer relationships to mine as it enters the U.S. market.
The company would do well to position its software as a way to help employers manage a difficult recruitment and hiring market as they battle low unemployment, high employee skepticism, difficulty finding the best candidates, and cost pressures that are impacting many companies.
As its progress unfolds, we'll continue to monitor how the company grows and evolves, and its success in attracting U.S. brands to its solution.
---
For more exclusive coverage of innovative cloud companies, check out Cloud Wars Horizon here: