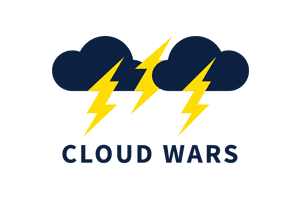 Amid jittery economic times, I'm projecting that the three leading companies on the Cloud Wars Top 10 will generate a combined total of $52 billion in cloud revenue for the quarter ending June 30.
As we've mentioned before, that's all well and good for those three companies, which are sometimes perceived to be existing in some alternative universe because of their size, their growth rates, their financial mass, and their global impact.
But I feel we should look at that $52 billion in a different way: All that money means that businesses across the globe will be investing — just in Q2 — $575 million dollars every single dang day into the advanced cloud technologies of just three cloud vendors to help those business customers build the digital foundations for their futures.
If the sky were falling, I don't think those businesses from across every industry would be pumping well over half a billion dollars into world-changing technology.
Here's a breakdown of my projections:
#1 Microsoft: The period ending June 30 is Microsoft's fiscal Q4, and the company always finds a way to close its year with a bang and a boom. In the same quarter last year, Microsoft posted cloud revenue of $19.5 billion. I'm projecting that its growth rate in the current quarter will be 32%. So $19.5 billion X 1.32 = $25.7 billion, which is my projection (fancy name for "guess") of where Microsoft Cloud will come in this year.
#2 Amazon: In this same quarter last year, AWS revenue was $14.8 billion, and I'm projecting it will grow that revenue this quarter by 35%, which will result in AWS Q2 revenue of $19.98 billion.
#3 Google Cloud: A year ago in Q2, Google Cloud's revenue was $4.63 billion. My projected growth rate for Google Cloud in this year's Q2 is 43%, which means it will generate Q2 revenue of $6.62 billion. That 43% will be the highest growth rate in the Cloud Wars Top 10, a distinction Google Cloud has claimed for the past six quarters. I am certain it will hold that title for this reporting cycle as well — and the big question is whether Oracle will replace Google Cloud as the world's hottest cloud vendor when Oracle reports its fiscal-Q1 numbers in early September, with that result being spiked by the addition for the first time of Cerner revenue. For those three months ending Aug. 31, Oracle is projecting cloud revenue growth of between 44% and 47%. For more on that, please see Oracle to Become World's Fastest-Growing Major Cloud Provider With Cerner.
So, using my quantum-powered calculator, the total for those three cloud powerhouses is Microsoft's projected $25.7 billion + AWS's projected $19.98 billion + Google Cloud's projected $6.62 billion = $52.3 billion.
Final Thoughts
Yes, rampant inflation is causing significant difficulty for businesses and consumers alike, and yes, the possibility of an economic downturn is certainly very real. But in that context, it is fascinating to see that business leaders are demonstrating very clearly with their wallets that they now believe that modern cloud technology is no longer to be regarded as a cost center to be pulverized but rather the strategic lifeblood of digital business.
The unmistakable proof of that is the cumulative Q2 growth rate from the world's top 3 cloud providers on a whopping base of $39 billion even as talk of slowdowns and cutbacks abound.
Money talks — and the $52 billion that I expect business leaders will pump into the cloud businesses of Microsoft, Amazon, and Google should make for a riveting conversation.
---
Register today for THE cloud event of the year