As digital transformation powered by the cloud becomes the defining business dynamic of our time, the world's 10 largest and most-influential enterprise-cloud vendors are poised to generate $158 billion in cloud revenue in calendar 2019.
That's an enormous number for the leading companies in an industry still in its very early stages. By some estimates, only 15% or 20% of the potential cloud market has been addressed.
So if we take that 20% number, and extrapolate out to 100% to get a sense of how big the market could be, we'd then multiply that $158 billion by 5 and get a total addressable market of $790 billion. (And remember, that's just for those top 10 vendors, not the entire cloud market.)
We're gonna need a new measuring stick
But I think that number doesn't begin to approach the real value of the cloud market. Business customers are consistently finding that the cloud isn't just a 1:1 replacement or swap-out for traditional on-premises systems. Those businesses are discovering that the cloud's flexibility, its inherent tie-ins with mobile and social technology, and its ability to scale up to levels of computing power never before possible, open up new business opportunities that on-prem technology could never address.
So as the cloud market unfolds, there will be a multiplier effect. Market sizes from the traditional IT world simply don't add up to what will be possible—and indeed probable—in the cloud-powered digital economy of the future.
Exponential growth via the cloud is already happening
Here's an example from a piece I posted earlier this week called How Workday Helps Walmart Modernize Employee Engagement: the New HCM, in which Workday CEO Aneel Bhusri describes the explosive growth in the HCM market since the advent of the cloud:
"Twenty years ago, when I would sit down with CEOs, they didn't talk about HR," Bhusri said.

"Today, they all want to talk about talent and their people and how do they recruit the best, how do they retain the best, what's best in class from a compensation perspective or a rewards perspective. 

"So the category's just gotten a lot bigger, and one day we were looking at it and we said that even though all the data's around HR and Payroll and Benefits, the category's actually lot bigger than that because we're selling into a lot more areas."
Just how much bigger has the HCM market become? Bhusri estimates it has doubled in size: "There'd always been a 2:1 ratio in TAM between Financials and HR, where the market for Financials was twice as big as the one for HR. But now I think it's 1:1." (For more on the booming SaaS market, please see How Big Is SaaS? Salesforce and Workday Revenue Could Hit $20B This Year.)
2019 cloud revenue numbers are going to be massive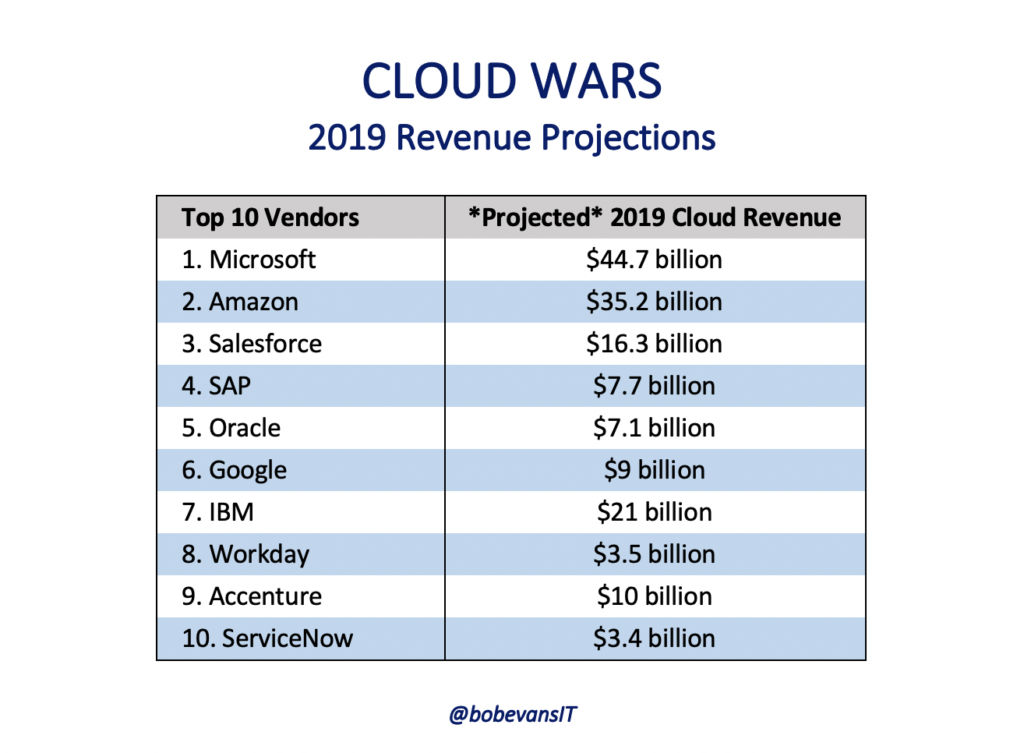 The above table shows my projections for 2019 cloud revenue for each of the vendors in the Cloud Wars Top 10. Here are a few highlights:
Microsoft and Amazon will combine for about $80 billion in cloud revenue in this calendar year, making up about 50% of the total the Top 10 will generate.

Looking ahead six more months to the end of Microsoft's fiscal year, I expect  Microsoft will report a staggering $50 billion in commercial-cloud revenue for the 12 months ending June 30. (For more on Microsoft's booming business, please see

Inside Microsoft's Monster Q4: 10 Big Cloud Numbers.)
IBM will soon be able to weave Red Hat's revenue into its quarterly numbers, and that should push IBM's total cloud revenue for calendar 2019 to about $21 billion.
I expect Google Cloud to finish the year with $9 billion in enterprise-cloud revenue after saying its Q2 cloud revenue reached $2 billion.
Wins for cloud vendors = wins for cloud customers
And while it's intriguing to toss around these very large revenue numbers the cloud vendors are cranking out, it's important to remember that—as I've stated many times—the biggest winners in the Cloud Wars are the business customers benefitting from all of this competition and innovation.
For the cloud vendors that can put the customer at the center of everything and find the proper balance between ferocious competition and intelligent collaboration, the sky's the limit.
Disclosure: at the time of this writing, SAP, Oracle, Google Cloud, IBM and Workday were clients of Evans Strategic Communications LLC and/or Cloud Wars Media LLC.