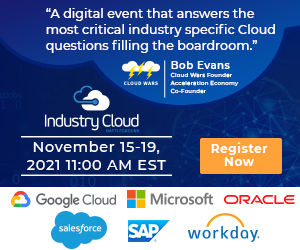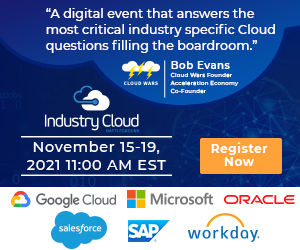 Despite having revenue only 1/75th the size of IBM's, data-cloud disruptor Snowflake has vaulted past IBM on the weekly Cloud Wars Top 10 rankings as formerly #10 Snowflake is generating triple-digit growth while IBM's Q3 results were deeply disappointing.
So as of today on my weekly Cloud Wars Top 10 rankings, Snowflake has moved up to #9 while IBM falls to #10.
For IBM, that's an inauspicious decline: in the 3+ years that I've been posting these Top 10 rankings, every company that has descended from higher up in the rankings down to #10 has not stopped there—that #10 spot has proven to be a temporary holding position before they fell off the list altogether.
Of course, the future is not written for IBM or anyone else, and it is possible that the moribund giant will be able to buy enough time through its imminent spinoff of its managed-services infrastructure business, called Kyndryl, to regain some vitality and remain a fully viable player in the Cloud Wars.
I freely admit that I am pulling for IBM and two of its top executives: 
CEO Arvind Krishna, who not only inherited a jumbled mess from predecessor Ginni Rometty but also took control in April 2020 as the pandemic's full proportions rocked the world; 

and cloud chief Howard Boville, one of Krishna's first hires and someone who, as the former CTO of Bank of America, brought to IBM the customer-centric mindset and vision the company so desperately needed.
But good intentions, big hearts, and soaring vision go only so far in this wickedly competitive marketplace. And for Q3 IBM's cloud-revenue growth of only 12% is barely one-half or one-third of other Cloud Wars Top 10 players.
On the other hand, while Snowflake has only just reached a $1-billion annualized run rate, it has a dynamite one-two combo going for it:
it either created or has totally

taken control of the red-hot "data cloud" category

at a time when customers are incredibly eager for such solutions; and

it's been growing in triple digits, a stunning accomplishment in spite of the fact that its quarterly revenue is "only" $254 million.
What we see here are two companies at wildly different times in their development and evolution. Cloud-native Snowflake taking a radically new approach to an age-old problem and deploying highly innovative new go-to-market plans to generate passionate customers and soaring financial results. Conversely, 110-year-old IBM, a company with a tradition that few other corporations could possibly match, is now trapped at least in part by the need to drag along old-line businesses that have helped to build that proud tradition.
To Snowflake: congratulations on moving up to #9 on the Cloud Wars Top 10, and we look forward to trying to keep up with your meteoric trajectory!
To IBM: you've got some fantastic people and technologies, plus treasured relationships for decades with many of the world's largest companies. But the value of those past achievements will decline rapidly toward zero unless you define and focus on a future that is centered on where current and new customers want to go rather than where they have been. Just over a year ago, I shared some thoughts on this in a piece that I believe still holds true today: An Open Letter to IBM CEO Arvind Krishna: Keep Swinging that Axe!
Subscribe to the Industry Cloud Newsletter, a free biweekly update on the booming demand from business leaders for industry-specific cloud applications. 
Cloud Wars is on YouTube! Keep up with our latest podcast episodes, daily Cloud Wars Minute commentary and interviews shedding light on the greatest growth market the world has ever known.