Just to be clear about who's #1 in the cloud, late this month we'll find out if Google Cloud and Amazon Web Services are finally able to have combined cloud revenue equal to or greater than Microsoft's for Q2.
On my weekly Cloud Wars Top 10 rankings, Microsoft is the longtime #1, Amazon is longtime #2, and Google Cloud early this year jumped to the #3 spot.
I'm offering this perspective to illustrate a few points: 
overall, the remarkable scale and growth rates of these 3 cloud powerhouses;

the unmistakably clear financial details revealing that Microsoft and not AWS is by far the world's largest cloud provider; and

how rapidly emerging customer needs and expectations are driving huge changes in what "the cloud" has become in 2021 as infrastructure is recognized to be just a part of the mix rather than being the whole story.
It's also pretty wild to look at the market caps of those three companies and realize that Google is the little guy within that trio: Microsoft's market cap is $2.1 trillion, Amazon's is $1.9 trillion, and Google's is $1.7 trillion.
Last quarter, here's how the numbers turned out as presented in a graphic that was part of our May 2 analysis of Q1 results called Microsoft Rules: Q1 Cloud Revenue Bigger than Amazon, Google Combined: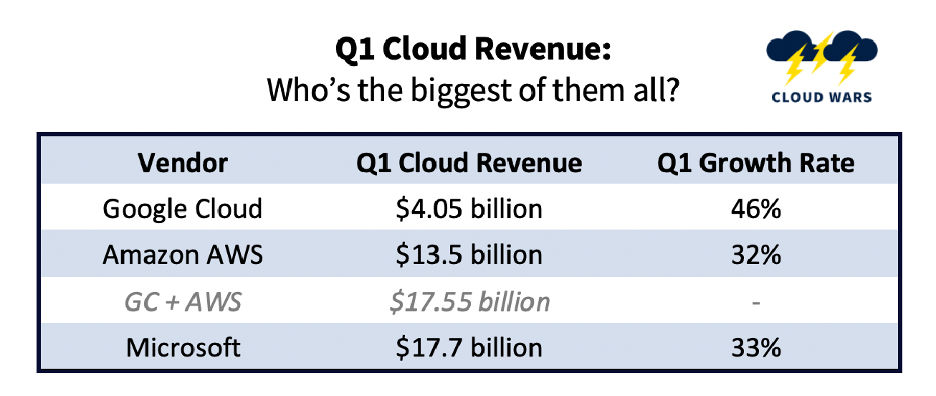 As we consider how the math might play out for Q2, please bear in mind that this quarter has special significance for each company: 
for Microsoft, those 3 months are its fiscal Q4, and over the past few years Satya Nadella and company have demonstrated that they like to close their fiscal year by outperforming all expectations;

for Amazon, June 30 marked the final day for Andy Jassy as AWS CEO (he's now CEO of the entire Amazon empire) and no doubt the AWS team wanted to deliver a killer quarter in recognition of their founder and longtime leader; and

for Google Cloud, a big question is whether it can continue to achieve the very difficult feat of pushing its growth rate

higher

each quarter even as its revenue base gets dramatically larger: can it top 47%?
Google Cloud's whopping growth rates have come in large part as a result of its aggressive expansion beyond infrastructure and more deeply into databases, analytics, its Anthos multicloud platform, and its red-hot industry-specific solutions.
Microsoft has led the way in offering cloud solutions for every portion of what Nadella calls the "digital estates" of customers, and recently highlighted that increasing focus by unifying under a single leader the previous separate business units of Dynamics 365, Power Platform, Industries, Data, AI and Mixed Reality all now report to corporate VP Alysa Taylor. For more on that, please see Microsoft Reorganization Merges Data and AI with Apps and Industries.
Amazon has pretty much stayed out of the applications category, but with new CEO Adam Selipsky on board, and with that segment having enormous potential as well as stickiness for so many other cloud services, we should not be surprised to see Amazon begin pushing more broadly into applications to meet surging customer demand.
Here's my rough guess on how the Q2 numbers will come out:
Microsoft: commercial cloud revenue of $19.1 billion

Amazon: AWS revenue of $14.5 billion

Google Cloud: revenue of $4.7 billion

AWS + Google Cloud: $19.2 billion
So, I'm guessing that Microsoft's run of having more cloud revenue Amazon and Google Cloud combined will come to an end when Q2 numbers come out.
It's be extremely tight, but I think Amazon and Google Cloud will cross that threshold once and for all.
Disclosure: at the time of this writing, Google Cloud was among the many clients of Cloud Wars Media LLC and/or Evans Strategic Communications LLC.
Subscribe to the Industry Cloud Newsletter, a free biweekly update on the booming demand from business leaders for industry-specific cloud applications. 
Cloud Wars is on YouTube! Keep up with our latest podcast episodes, daily Cloud Wars Minute commentary, and interviews shedding light on the greatest growth market the world has ever known.