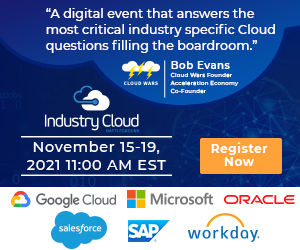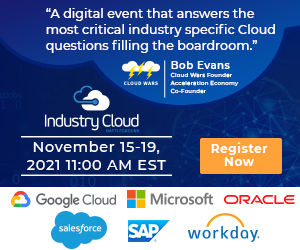 With an industry-cloud annualized revenue run rate of more than $3 billion, Salesforce has oriented more than half of its global sales organization toward industry-specific goals and objectives in an aggressive move that could very likely strengthen its position as the world's leading industry-cloud provider.
On my weekly Industry Cloud Top 10 rankings, Salesforce has been #1 since I launched the list several months ago, with Google Cloud at #2 and Oracle at #3. That's a separate ranking from the 4-year-old Cloud Wars Top 10, on which Salesforce comes in at #4 behind #1 Microsoft, #2 Amazon, and #3 Google Cloud.
In an interview for the Industry Cloud Battleground Week digital event we're holding this week, Salesforce Industries executive vice-president Jujhar Singh offered a few details about his company's increasing acceleration into industry clouds, and the one that stood out most strikingly to me involved the new orientation of the sales organization toward verticals.
"For Salesforce, our long-term commitment in industries is not a fad," Singh said in the interview. "Our commitment started in 2013 on the go-to-market side and then in 2016 we began building deep industry clouds in some of our industry clouds."
The most-recent example of that commitment is the new predominant orientation toward industry-specific responsibilities for more than half of Salesforce's global sales organization.
"Industry clouds have become a very well-established motion at Salesforce," Singh said. "We now have 12 industry clouds, and we have depth across every subsegment level as well. 
"And on the go-to-market side of the house, I want to point out that our entire sales organization is 55% to 60% vertically aligned by industry. 
"Plus, to give a perspective on our commitment to organic investments [for Industries], since 2018 we have almost doubled our R&D investments every year."
Singh later pointed to a handful of factors that have been driving the booming demand for Salesforce's industry clouds, for which revenue in the most-recent quarter was up 58% to $790 million:
"customers are trying to get their digital transformation done in a matter of weeks rather than years, and that's a secular trend we see across all industries";

the pandemic has triggered greater focus on public health;

advanced digital functionality can be transferred across industries smoothly and rapidly because all of Salesforce's industry clouds are built on a single platform; and

with its new industry clouds, including Media Cloud and Energy & Utilities Cloud, "we are seeing hypergrowth," Singh said.
On more than one occasion, Singh noted that technology is only a part of the overall success Salesforce is experiencing—and that customers are the real heart and soul of that outcome.
"We are excited and thankful to our customers for this amazing growth—without them, we are nothing."
Subscribe to the Industry Cloud Newsletter, a free biweekly update on the booming demand from business leaders for industry-specific cloud applications. 
Cloud Wars is on YouTube! Keep up with our latest podcast episodes, daily Cloud Wars Minute commentary and interviews shedding light on the greatest growth market the world has ever known.