As businesses surge into the data-powered digital economy, Oracle has enhanced its MySQL cloud database service with a souped-up in-memory query accelerator called HeatWave that gives the Oracle bundle huge price and performance advantages over Amazon's Redshift and Aurora databases. 
For MySQL business users, that means a whole new ballgame for running analytics against transactional data all in the same database. Those users no longer need to:
take transactional data out of MySQL and inject it into a separate database for analytics;

purchase, maintain, patch, upgrade, and tune two separate databases; and 

spend precious hours executing complex ETL procedures and can instead devote that time to discovering new insights about customers and sales opportunities.
Oracle says that while Amazon (with its Aurora and Redshift databases), Snowflake, Microsoft and others are positioning themselves as cloud-native databases, the price and performance benefits of Oracle MySQL Database Service + HeatWave are overwhelming.
Indeed, the benchmark data below—which Oracle says is available for anyone to replicate on GitHub—shows that when you compare MySQL Database Service + HeatWave to Amazon Aurora, the performance spread looks like this: 
for

data preparation

, HeatWave is 30X faster;

runtime

is 1,100X faster; and

annual cost is lower by a factor of 3.5X.
"Oracle MySQL Database Service + HeatWave is the only MySQL service with an integrated massively scalable cloud-native query accelerator," said Nipun Agarwal, Oracle VP for MySQL HeatWave and Advanced Development.
Agarwal has led the efforts to upgrade every facet of Oracle MySQL to align with the needs of data-hungry companies moving into the digital economy, and he emphasized that HeatWave is "100% new code optimized for the cloud."
The system automatically provisions a cluster to match the workload, saving the customer time and labor and reducing the chances of error; it uses commodity cloud services so it can deliver the best performance at the lowest cost; and makes extensive use of machine learning-based automation to further drive down related costs while simultaneously boosting performance.
In essence, Agarwal said, the MySQL optimizer has been enhanced to seamlessly integrate the HeatWave engine and as a result customers don't need to change or rewrite their MySQL applications to benefit from the query acceleration of HeatWave. Furthermore, any changes made to the data are propagated to HeatWave in real time so that queries always access the latest data."
As a result, "The user is totally unaware of these changes behind the scenes," Agarwal said. "What the user gets is a better experience, higher performance, and much lower costs."
On top of that, Agarwal said, MySQL Database Service + HeatWave was specifically designed to be able to scale up massively. The comparison chart below shows how that plays out: the larger the workloads, the bigger the performance gap over Amazon Aurora.
And here are a few additional reasons why Oracle feels that its new MySQL Database Service + HeatWave is superior to anything on the market:
it integrates seamlessly with other Oracle Cloud Infrastructure services like OCI 
data integration service and Oracle Analytics Cloud; and customers can easily run analytics on data stored on-premises by enabling MySQL to replicate data from on-premises to HeatWave in the cloud, a capability that Agarwal says only Oracle can offer.
"This is a huge breakthrough in the database world," Agarwal said, "and as a result, we already have many customers going live with this version."
Perhaps some of the customers that choose MySQL Database Service + HeatWave are influenced by the head-to-head comparison data created by GigaOm and illustrated with the addition of HeatWave in this graphic: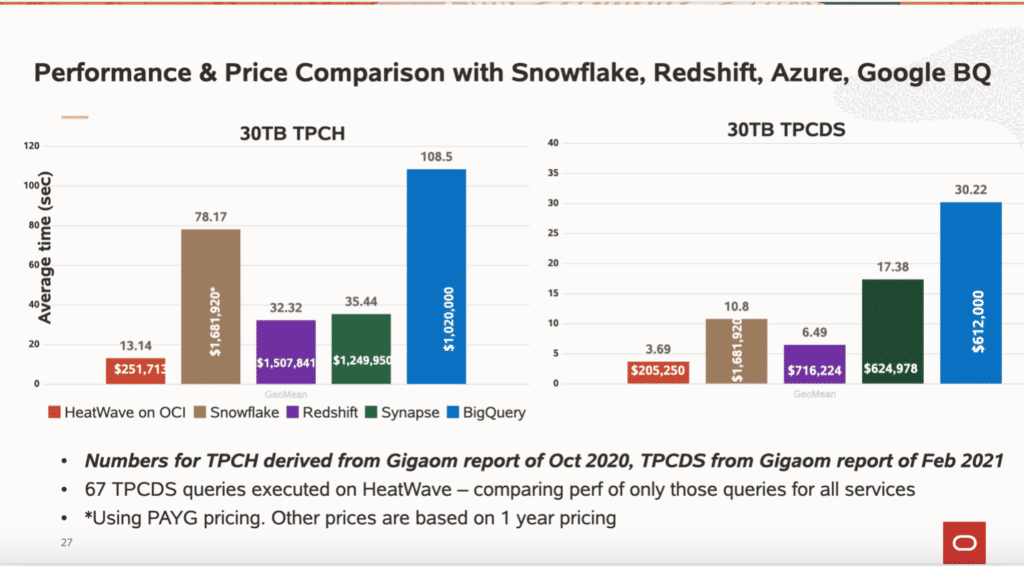 At Siemens Medical Devices, Dr. Jens Uecker reported nothing short of "astonishing performance improvements" with the new MySQL Database Service + HeatWave solution.
"We discovered astonishing performance improvements during our tests of MySQL with HeatWave, reducing query times from hours to seconds in cases of non-index-based queries," Uecker is quoted as saying in the Oracle Live announcement slide deck.
"This enables us to expand our service and open the door to many more analytics-based capabilities while maintaining a single, seamless database platform."
In today's turbulent business world, where companies are striving to make full use of their data rather than being overwhelmed by it, those are the sort of breakthroughs that give Agarwal and Oracle a sense of delivering unprecedented levels of value for customers.
"With HeatWave," Agarwal said, "Oracle MySQL Database Service is the fastest database for analytics of any database out there. Bar none."
This article brought to you by Oracle.