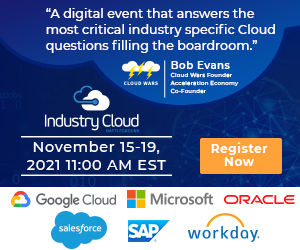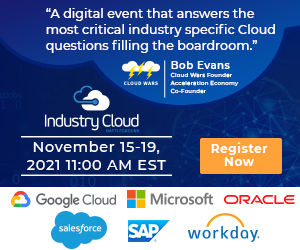 Asked how Google has become the world's hottest major cloud-computing provider, Alphabet CEO Sundar Pichai said that Google Cloud's aggressive focus on industry-specific solutions is the primary reason for the market-leading growth.
On my weekly Cloud Wars Top 10 rankings, Google Cloud is #3 behind #1 Microsoft and #2 Amazon. And with Google Cloud's ongoing hypergrowth plus its highly innovative new solutions and approaches to the market, it is definitely exerting a lot of upward pressure on Amazon for that #2 spot.
But I'm getting ahead of myself—so let me get back to what's driving Google Cloud's market-leading growth, which for Q3 came in at 45%, pushing revenue for the quarter up to $5.0 billion.
In the Q&A portion of Alphabet's Oct. 26 earnings call, analyst Brent Thill asked Pichai this question: "On Google Cloud, we continue to hear from the partners that the deal size is building, and BigQuery is having a big impact for a lot of your customers. Can you just talk to and expand on what you're seeing there, and any other noticeable trends that you're seeing now that maybe you hadn't seen in the past."
Before I share Pichai's verbatim response, I will interject that in these Q&A sessions during quarterly earnings call, my take on Pichai is that he is extremely guarded and cautious in his answers and typically delivers replies that could be called minimalist. He's always courteous and does indeed offer responses, but in my experience those responses very rarely stray from an extremely narrow path on which Pichai attempts, in my view, to limit his replies to as few words as possible and as little "color" as possible.
As you'll see, the first part of Pichai's answer sticks to that formula—and here's that first part. 
"Look, overall, you know, we continue to see strong momentum. The team is executing well. You mentioned BigQuery. Data and analytics and AI continues to be a kind of a foundational shift for what companies are trying to accomplish, and BigQuery does stand out there. And we are definitely seeing, you know, continued momentum there. It's a source of strength."
Okay, that's all true, and it's also pretty much as unilluminating as possible: "Strong momentum… team is executing well… foundational shift… continued momentum."
Pichai then got a bit expansive as he began to address the second part of the question, which was about factors outside of data and BigQuery.
"The other areas I would highlight are, security continues to be an increasing area of focus and a differentiator for us, given over two decades of investment we have had. We've pioneered zero trust and so on. So as cybersecurity elevates in concern across companies I talk to, and the CEOs, that's definitely been an area. Multi-cloud continues to be a differentiator, and I do think customers are increasingly looking for it. And we've embraced it from early on, so that is an area as well."
Okay—again, straightforward and cautious, but in that portion Pichai almost revealed an attempt to kinda/sorta get a little spontaneous!
But it was in the third and final part of his reply that Pichai stepped out of character a bit and said something illuminating and unexpected, and he clearly said that he was identifying the factor that "above all" has sparked the Google Cloud boom.
"But above all, I think we are very, very focused on industry-value propositions, so really sharpening our solutions by vertical. And that's really helped us, you know, get some of the bigger deals you mention as well. And we'll continue doing that."
So there it is in plain black-and-white from the CEO of one of the world's most-influential corporations: the big differentiator and growth-driver for Google Cloud has been its eager embrace of industry-specific solutions that Thomas Kurian has imagined and championed since becoming Google Cloud CEO almost 3 years ago.
So I say bravo, Sundar Pichai! Thanks for being willing to share some of your unrivaled insights into what has made Google Cloud—at least for now—the world's hottest cloud-computing provider.
And for those of you looking to understand more of what these industry solutions and this industry-cloud thing are all about, your timing is absolutely perfect because during the week of Nov. 15-19, Cloud Wars and AccelerationEconomy.com are hosting Industry Cloud Battleground Week, a digital event showcasing the top-priority questions from business customers and the answers being provided by 6 of the world's top industry-cloud vendors: Salesforce, Google Cloud, Oracle, Microsoft, SAP, and Workday. Registration is free and easy, and you can take care of that here.
Disclosure: as noted in the article, underwriting sponsors of Industry Cloud Battleground Week include Google Cloud and one other cloud provider mentioned in this article: Microsoft.
Subscribe to the Industry Cloud Newsletter, a free biweekly update on the booming demand from business leaders for industry-specific cloud applications. 
Cloud Wars is on YouTube! Keep up with our latest podcast episodes, daily Cloud Wars Minute commentary and interviews shedding light on the greatest growth market the world has ever known.