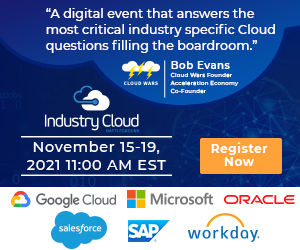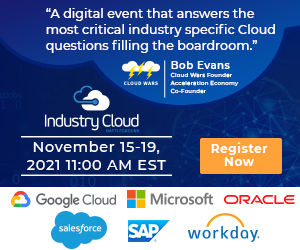 For the second quarter in a row, AWS has grown more rapidly than Microsoft Cloud, breaking a long string of higher growth rates from Microsoft and giving AWS some much-needed momentum.
On my weekly Cloud Wars Top 10 rankings, #2 AWS has been looking up at #1 Microsoft for more than 2 years.
Despite this excellent achievement by AWS—and its Q3 growth rate of 39% puts it almost in hypergrowth—I also need to point out that at least for now, Microsoft's cloud revenue continues to be much larger than AWS's: for the 3 months ended Sept. 30, Microsoft's cloud revenue of $20.7 billion is 28.5% larger than AWS's revenue of $16.1 billion.
But there's no question that in the last 2 quarters, AWS has grown more rapidly than the Microsoft Cloud:
in Q2, AWS revenue was up 37% while Microsoft's cloud revenue was up 36%; and

in Q3, AWS revenue was up 39% while Microsoft's cloud revenue was up 36%.
So not only has AWS been growing more rapidly than Microsoft Cloud, but AWS cloud revenue has been accelerating while Microsoft's has leveled off for the past 2 quarters.
On the Amazon earnings call last week, CFO Brian Olsavsky called out machine learning as the primary catalyst behind the AWS surge.
"There are a number of areas we're excited about, but let's focus for a moment on our efforts in machine learning," Olsavsky said. 
"Customers of all sizes and across all industries are using AWS as their preferred cloud provider for machine-learning services. We've been investing in this area for several years, offer an extensive set of machine-learning services, including ones that can be applied to common business problems like Amazon Connect for contact center intelligence or Amazon Kendra for intelligent enterprise search."
Olsavsky said this ML trend has extended into the red-hot area of industry solutions with "industrial machine learning services" plus a healthcare-data solution to "help healthcare and life sciences customers seamlessly transform their data across disparate sources to understand and extract meaningful medical information."
If you're a cloud customer, you've got to love this: two of the world's largest, most-valuable, and most-influential corporations intensifying their head-to-head competition with the goal of delivering to the most powerful, capable, and innovative cloud services the world has ever seen.
Long live the Cloud Wars: where the big winners are the customers!
Subscribe to the Industry Cloud Newsletter, a free biweekly update on the booming demand from business leaders for industry-specific cloud applications. 
Cloud Wars is on YouTube! Keep up with our latest podcast episodes, daily Cloud Wars Minute commentary and interviews shedding light on the greatest growth market the world has ever known.