In the business world, no one owns first place. The best you can get is a lease. And you have to renew it constantly. 
So while Microsoft's enterprise-cloud business has been a runaway success by every measure (it's likely to hit $50 billion in revenue for its fiscal year ending June 30, 2020), history tells us that business leadership is, like all things, temporary and elusive.
Five years ago—heck, even 3 years ago—you could find many, many people who would say that Amazon will rule the cloud for the next 50 years. They'd say that its first-mover status in IaaS makes it invincible. That its parent-company's unbridled ambition will simply never let anyone overtake AWS in the cloud.
But that is in fact precisely what happened. Here in the second half of 2019, Microsoft's cloud business is now larger than Amazon's by approximately $10 billion. For calendar 2019, I'm projecting that Microsoft's cloud revenue will be $44.7 billion and that Amazon's will be $35.2 billion. (You can read all about that in Cloud Revenue Surging to $158 Billion for Top 10 Vendors in 2019.)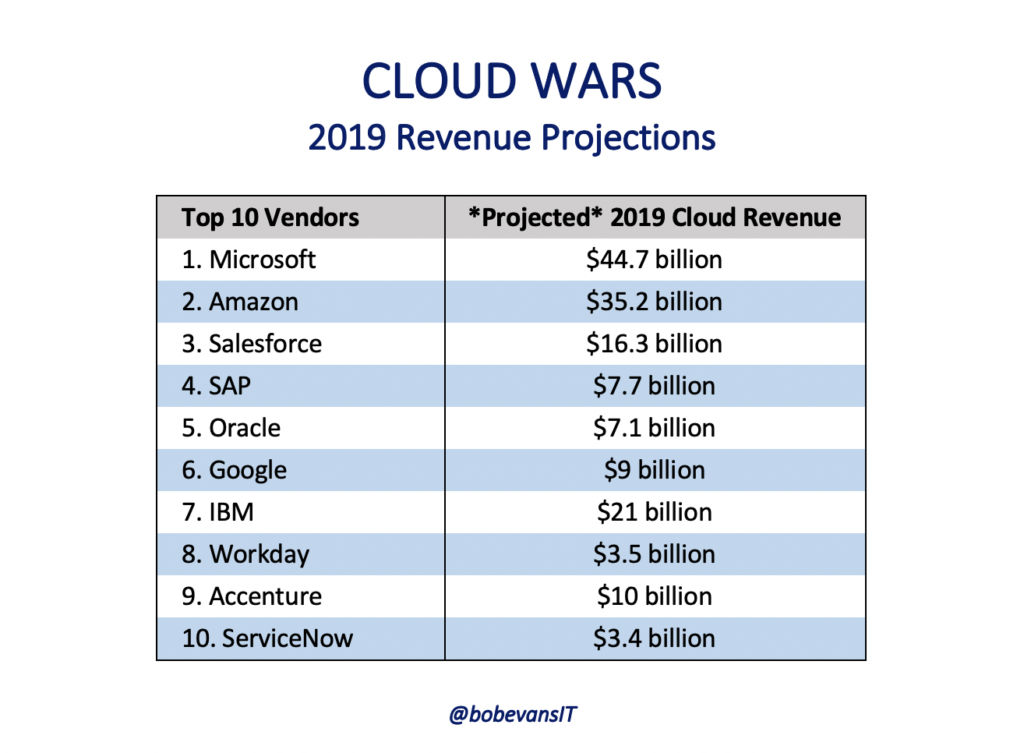 So which cloud vendor—or combination of vendors—might have the technology depth, customer-centric focus, marketing savvy, and extraordinarily deep pockets to overtake Microsoft in the cloud?
Let's explore a few possibilities.
1. Google Cloud.
Having risen recently to #6 in the Cloud Wars Top 10 on the strength of CEO Thomas Kurian's customer-centric vision, Google appears to have all the ingredients to stage a stunning overthrow. For some time, it's had incredible technology, brand recognition, and almost-unlimited financial resources. And now with Kurian driving a customer-first approach to the market, it has new respect and empathy for enterprise customers, new investments in go-to-market capabilities, and new credibility among business customers.
I would bet that if Microsoft CEO Satya Nadella has a list of competitive threats, Google sits at the top of that list.
2. Salesforce + IBM
Yes, the idea of such a combo is a little crazy. But what's *really* crazy is thinking that any tech company other than Google can, all on its own, overtake Microsoft in the cloud. For the sake of this blue-sky exercise, set aside the question of which company buys the other and think instead of the resulting combination. Salesforce's massive SaaS business and its brilliant positioning as the must-have solution for customer-centric digital transformation put it on the front edge of what every CEO and every responsible board of directors are obsessed with today. And IBM, particularly with its acquisition of Red Hat, has an extraordinary set of infrastructure and platform technologies and products to address a huge range of customer requirements.
3. Amazon + SAP
I know, I know—for a variety of reasons, it will never happen. But we're talking about doing something—overtaking Microsoft—that requires a strikingly different approach to what we see in the market today. And the combination of the unquestioned category king in cloud infrastructure (Amazon) with the world's leader in enterprise applications (SAP) would certainly present a huge challenge to Microsoft's leadership.
Plus, don't forget: for the last few quarters, SAP has had the fastest-growing SaaS business of any of the major players, with growth rates of 40% or above.
4. Oracle + ServiceNow
Let's say that Oracle's Autonomous Database continues to show not only great promise but also significant revenue growth—a very reasonable assumption. That would mean that Oracle's IaaS business, which to date has been negligible, would also be growing rapidly because founder Larry Ellison is blurring the lines between PaaS and IaaS by requiring that Autonomous Database (which everybody wants) can only run on Oracle IaaS (which would by association become a booming success). Add in high-flying ServiceNow and its unique digital-workflow applications *plus* its deep-seated culture focused on customer success, and you'd have a pretty good challenger for the top spot.
As is the case with all market leaders, Microsoft's #1 spot atop the Cloud Wars is not impregnable. But only one cloud competitor has the wherewithal to unseat Satya Nadella's company on its own. That's Google Cloud under Thomas Kurian. All other challengers will have a chance at #1 only through unconventional and perhaps even outrageous combinations, such as a couple of those suggested above. 
Remember: what got us here won't get us there.
Disclosure: at the time of this writing, SAP, Oracle, Google Cloud and IBM were clients of Evans Strategic Communications LLC and/or Cloud Wars Media LLC.
Subscribe to the Cloud Wars Newsletter for in-depth analysis of the major cloud vendors from the perspective of business customers. It's free, it's exclusive, and it's great!