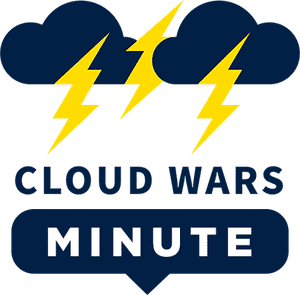 Welcome to the Cloud Wars Minute — your daily news and commentary show, hosted by Cloud Wars Founder, Bob Evans. Each episode provides insights and perspectives around the "reimagination machine" that is the Cloud.
Highlights
00:22 — Four of the Cloud Wars Top 10 companies have announced major changes in their partner organizations. In addition, two of those companies now have new C-level titles: Chief Partner Officers.
00:49 — With this huge shift to the cloud, many expected it to be the end of partner ecosystems. However, partners have been essential in helping companies that have moved to the cloud provide products and services to their customers. It's less about integration and more about helping to drive innovation.
01:28 — Workday, SAP, IBM, and Microsoft all want their partners to be more involved now—not just in selling the provider's innovation, but in creating their own to help customers gain more value from the vendors, cloud capabilities, and new types of innovation.
01:55 — Microsoft renamed its entire partner program: the Cloud Partner Program. Also, Microsoft's cloud revenue accounts for about 43% of its total revenue, so the company sees that as the future.
02:25 — SAP was the first major cloud vendor to have a Chief Partner Officer. While SAP has very ambitious plans for industry cloud solutions, the company figures it will only be creating about 15-20% of those solutions and its partner ecosystem will create the other 80-85%.
02:54 — IBM has made its Chief of Staff, Kate Woolley, the new Head of IBM Partner Ecosystem. This role will help align IBM more with what customers want.
03:13 — Workday has a new Chief Partner Officer, Sam Alkharrat, who has great experience with big companies moving this along.
03:26 — Partners are more important than ever. None of these companies—as big and powerful as they are—could address all of the opportunities being created here.
---
Register today for THE cloud event of the year