ERP Implementations Reimagined – Part 1
Microsoft Dynamics Enterprise Resource Planning (ERP) implementations (AX and now F&O) have followed a tried-and-true approach with most partners using a similar method: Microsoft Sure Step. There's just one problem. When you look at the track record for a majority of ERP implementations (Microsoft or otherwise), failure is all too often the rule.
Implementations delivered over budget, past projected deadlines, and with disappointing user adoption are all too common. And if a majority of ERP implementation partners follow the same tried-and-true implementation formula, then something suggests that the recipe may be flawed.
Let's discuss why.

Sure Steps, Uncertain Results
Microsoft Dynamics Sure Step is the prescribed methodology for deploying Microsoft Dynamics AX and other Microsoft Dynamics solutions. The Sure Step application provides product-specific and general project-based templates, workflows, process maps, and tools to assist the implementation partners.
The Sure Step project phases and associated graphic have become iconic for the implementation partners.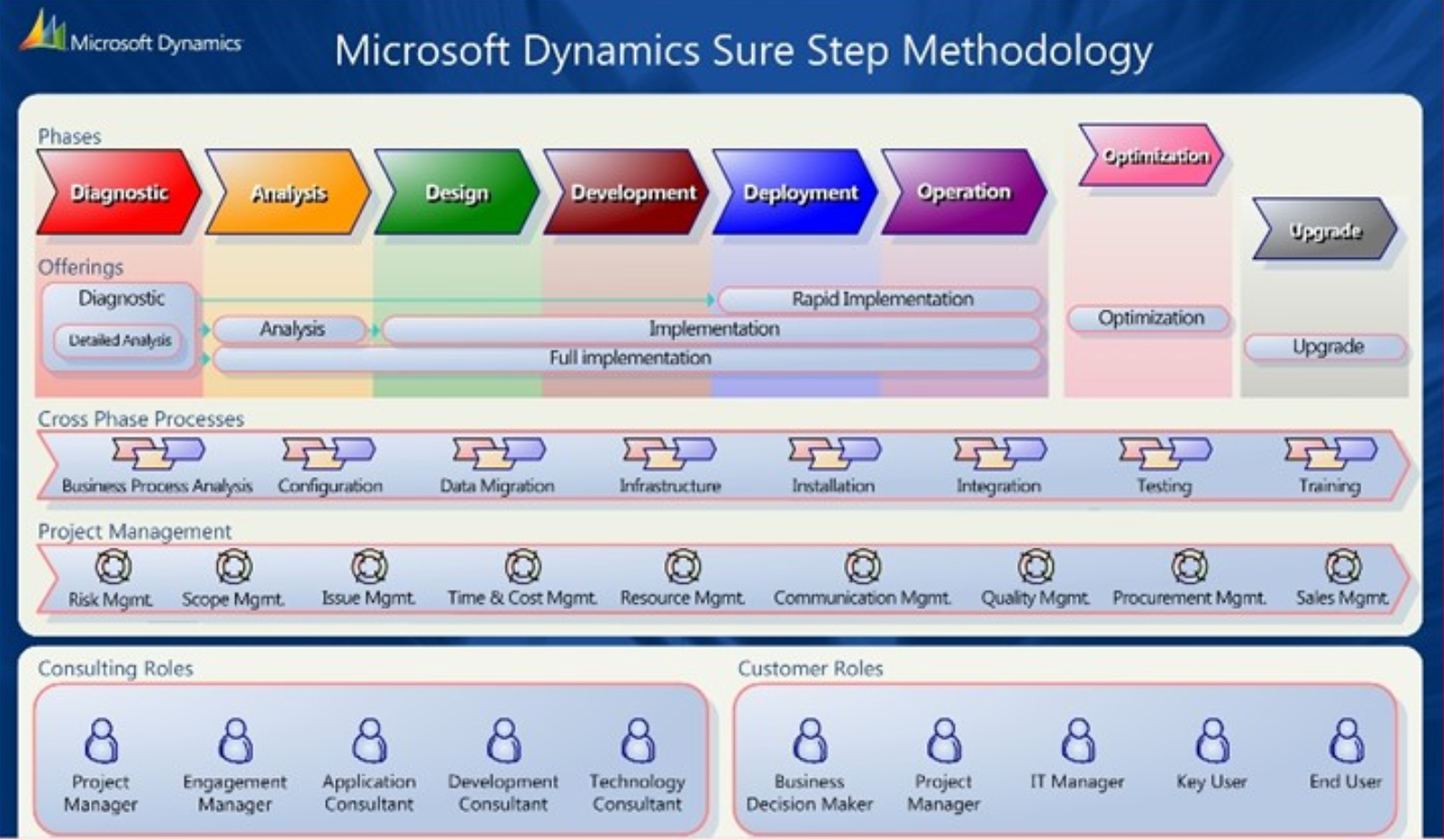 In our experience, Microsoft partners approach the Sure Step methodology in one of two ways:
Specifically by using the Sure Step methodology as the preferred implementation methodology
Indirectly by using a partner-specific branded implementation methodology based on Sure Step
Without proper context, any client examining this approach might see that all Microsoft partners embrace this approach, so it must be fabulous, right?
Portrait of a Typical ERP Implementation
However, experience tells us otherwise. Challenged ERP implementations are at an all-time high in the ERP software industry. Talk to anyone that has taken part in an ERP software update or new implementation, and the following will be true:
Projects fall into two categories:
Challenged and failed ERP implementation projects all suffer from some combination of:
Time (time to implement based on the project plan)
Budget (dollars quoted in the implementation plan)
Requirements (delivered functionality based on the sales process)
There are no successful implementations based on those three metrics, on-time, on-budget, and delivering on most promised requirements.
And yet, the Sure Step and Sons of Sure Step march on. The classic definition of insanity.
Challenge the ERP Implementation Status Quo
Why do partners continue to follow the same process if failure is rampant?
We see two major issues:
Fear – ERP Partners are a "me too" crowd that fear stepping outside of the processes that have been deployed forever and blessed by Microsoft.
Experience – The Sure Step process is a substitute for experience, however, you can put it right up there with Ikea assembly instructions when it comes to measuring the quality of the outcome.
At Pelorus, we've taken a different approach. Rather than modifying or adapting the classic recipe for failure, we've taken a first principles approach that begins with the goal in mind.  Our unique process for implementing ERP software is proven to be faster and more cost-effective in delivering value. Additionally, the requirements are set by experienced partners in conjunction with the client project team.  We'd love to share that recipe with you—AND with the community of partners who keep fighting and losing the same battles with a plan that has practically been proven to fail.
To learn more check out Part 2 – The Shadow ERP Problem, or contact us to start a conversation.
About the Author
Peter Joeckel is a Pelorus Partner and SVP of Sales. Mr. Joeckel brings over thirty years of practical, hands-on consulting experience in selecting and implementing enterprise ERP platforms. He focuses on bringing new tools, processes, and attitudes to the ERP selection, implementation, and upgrade market – where there have been no new ideas for decades.
To set up an initial consult with Mr. Joeckel: pjoeckel@pelorustechnology.com